What a wonderful day on Saturday. The sun was shining down as a large crowd gathered for the opening of the new Te Hāpua Halswell Centre. Well done to the Halswell School Kapa Haka team for their performance on this special occasion. Even a lonely monarch butterfly fluttered overhead giving us its blessing.
This is the new community facility with a swimming pool and so many rooms to have meetings and events but of course the best bit is the new library. It is stunning. The building is so light and fresh and seems to go on forever. It really is fantastic. We are so lucky to be living in this wonderful city where we have access to so many libraries.  Of course there are computers and free WiFi and pre-school programmes too and access to so much more. And yes! I did come away with a pile of books to read and a huge smile on my face.
It was lovely to see brothers, Sam and George  (past and current pupil ) flicking through many books and enjoying the atmosphere. Great choice of books there, boys! Their dad had a huge part to play in the design and building of this new centre and I have to say – it really is a wonderful place.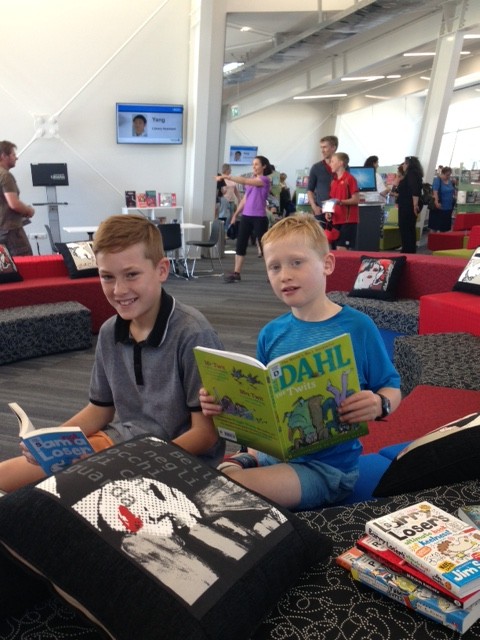 I love the little spaces where you can hide away and forget about the world while you slip between the pages of a book into other worlds. This little corner looks out on to the swimming pool. (sorry about the reflection).
We are very lucky to have our own wonderful school library but do take a visit to the new centre. I know you will all love it.  For more on our city libraries click here. If you are not yet a member I encourage you all to join.
Share