Goth girl and the ghost of a mouse
By Chris Riddell
This is one for the girls.
This is absolutely gorgeous. It is a beautifully produced hardback aimed at those girls who first fell in love with Chris Riddell's Ottoline books.
The edges are a shiny purple to match the cover. The end pages are shiny black with silver leaves and skulls. There is a black ribbon bookmark. There is also a delightfully small colour booklet in a pocket attached to the inside back cover.  I had just bought the book for school and it was on my desk for processing and the girls were all begging to reserve it.
Ada Goth is the only child of Lord Goth. They  live  in the enormous Ghastly-Gorm Hall. Lord Goth believes very strongly that children should be heard and not seen. He doesn't like surprises of children creeping up on him  so Ada has to wear large clumpy boots so that he can always hear her coming. Her only friend is Ishmael, a ghost mouse. All sorts of adventures begin to happen when Emily and William Cabbage arrive.  This is simply a wonderfully funny book with the most gorgeous illustrations. It is book of the week if not book of the year.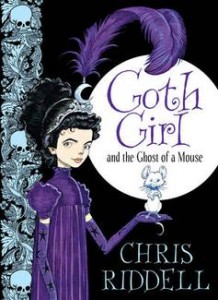 Share