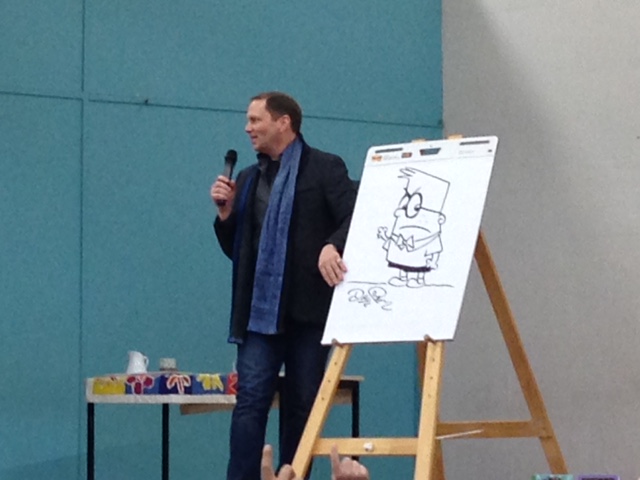 Wow! What a day. Our school played host to a community event where we were entertained and delighted by the wonderfully talented Dav Pilkey, author and illustrator of so many children's books. He is of course most famous for his Captain Underpants series.
His presentation was so funny and so well presented that everyone was in awe. From a young child who battled with ADHD and dyslexia he has used his difficulties to his advantage and now sells books in the millions.
Our wonderful Kapa Haka team performed a very touching welcome to Dav and his wife and the team from Scholastic. Many of the students had just come from playing Saturday sports. I know we all felt so proud of them all.
Dav Pilkey talked for about an hour, drawing, giving away books, posters and book vouchers. People were happy to wait patiently afterwards, for up to an hour and a half, for a chance to have a photo with Dav and get their books signed. I waited until the end and got my book signed too – yay!  I even managed to get him to pop in to our school library and have his picture taken next to our library tree.
Scholastic very kindly donated a pile of his books to our library and Dav signed each of them. We are so lucky. Thank you Scholastic! Look out too for a chance to bid on one of his signed posters. Dav very generously donated two signed posters which will be auctioned off later this year with funds going towards building a new swimming pool as ours was damaged beyond repair in the earthquakes.
There may be more photos to come but here are just a few to remember our wonderful Saturday with Dav Pilkey.
I do want to  publicly thank so many people who gave up part of their Saturday to help make this event happen. From the PTA who moved in ever so quickly to set up the seating, to the many teachers and staff who came in on their day off and collected tickets, moved things around, took care of the sound system and just did whatever needed to be done. Thank you from the bottom of my heart. Thank you to Paul W our caretaker for helping with security and heavy lifting and waited until the end to lock up. Without everyone's help this event would not have been as successful as it was.  And it was – a huge success. So many children talking happily talking about books is just music to the ears.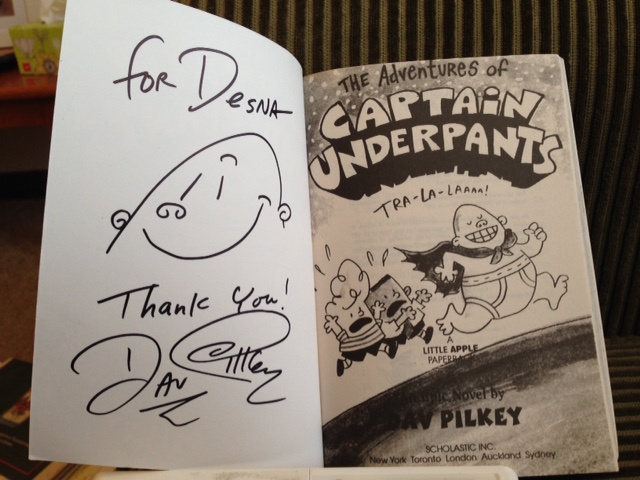 Share