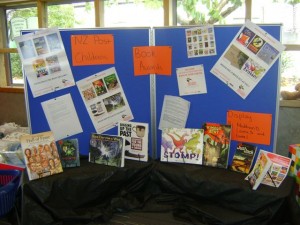 Once again our Faultline Fiction Fanatics are making the news.
This time the group did book reviews based on the books for the 2012 New Zealand Post Children's Book Awards.
They were interviewed and had their book reviews recorded for Radio New Zealand.
If you want hear their reviews, the times are listed below. Warning – you have to get up early!
Sat 5th May                             Reviews on the Picture books
Sun 6th May                           Junior Fiction
Sat 12th May                           Non-fiction
Sun 13th May                         Young adult fiction
Reviews will on the radio between 6 and 7 am. on 101FM    (Radio New Zealand)
Once they have gone to air the reviews will be put up on the radio website
http://www.radionz.co.nz/national/programmes/storytime-treasure-chest
This is another great achievement for the book club. I hope you enjoy listening.
Share