Check out Ben Y's great post for the blog today.
Today I went to Armageddon to meet Christopher Paolini, author of Eragon (and the other Inheritance Cycle books).  He was really cool and I had a good time.  I found out some interesting things.
He is going to write two more books about Alagaesia.  Yahooo!
In his first draft Eragon was called Kevin!!
He works out his stories by asking himself questions which bring up more questions and then he answers them which makes up the book.
The character Angela is exactly like his sister (who is really called Angela) and she invented 'were-cats'  for him.
He likes lightsabers and x-box and can do cartwheels!
Eragon is called Eragon because it is Dragon with the first letter changed and the book is set in an Era that is Gone.
Christopher Paolini signed my book and my dragon rider's sword.
From Ben Y
Thanks for this post Ben – awesome outfit and I love your big smile.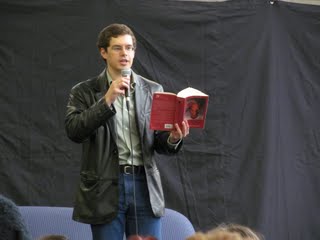 And thanks to my mate Zac at Christchurch City Libraries   kidsblog  for this photo of the author Christopher Paolini. Ps. Thanks Zac for getting my book signed. Check out Zac's blog as there are plenty of competitions for the holidays. There is even a chance to win Skulduggery books and maybe interview the author when he comes to Christchurch. If you enjoy the Eragon series then I am sure you will also enjoy the Skulduggery books so do pop on over to the kidsblog.
Enjoy the rest of the holidays.
Share