Parade day with Eve, Georgiana, Lily and  Gabby enjoying the competitions in the library.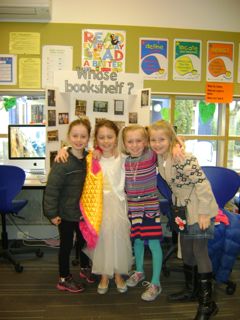 Thank you to everyone for making book week such a success. Parade day was a real highlight with so many children running around in wonderful costumes.
The competitions are being assessed at the moment and results will be ready soon.
We sold over $7500 worth of books which is brilliant. The commission we earn will go towards setting up a senior fiction area and new library books.
We loved all the visitors to school who came and shared their stories. We had All Black and Crusader Andy Ellis reading stories and showing us his World Cup medal. Bob Docherty came and reviewed books for the seniors and Zac Harding from Christchurch City Libraries came to read to everyone else.
A great week with everyone sharing stories and reading,  so well done. Thank you from all the book team.
Bailey with storyteller Zac.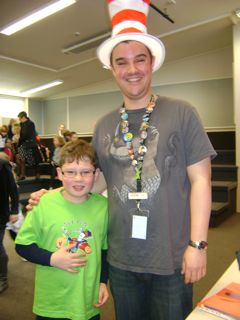 Share